It's been over a year now since Watch Dogs: Legion was first revealed during Ubisoft's E3 2019 conference. Rumors suggested the latest instalation to the Watch Dog series would take place in dystopian London and it turns out they were spot on. With characters straight out of a Guy Ritchie film, Watch Dogs Legion sees you navigating the streets of futuristic London, including Camden Market and Piccadilly Circus, as you form a resistance to take back the city.
Originally Ubisoft gave us a Watch Dogs: Legion release date of March 6, 2020, however the developer then pushed this date back to October 29, 2020 to allow the team "more development time to ensure that their respective innovations are perfectly implemented so as to deliver optimal experiences for players".
We may be waiting a bit longer than expected but here's everything know about Watch Dogs: Legion so far, including our own hands on impressions of the game.
Cut to the chase
What is it? The next game in the Watch Dogs series set in post-Brexit London
What can I play it on? PS4, Xbox One, Xbox Series X, PS5 Stadia and PC. 
When can I play it? October 29, 2020.
Watch Dogs: Legion release date
Watch Dogs: Legion will release on October 29, 2020 for PS4, Xbox One, Xbox Series X, PS5 Stadia and PC, and will be an Epic Games Store and Ubisoft Store exclusive on PC. 
In addition, Watch Dogs: Legion will be available on Ubisoft's subscription service UPLAY+, and will offer free next-gen upgrades on Xbox Series X and PS5.
Watch Dogs: Legion pre-orders
Here are the best prices for Watch Dogs: Legion pre-orders in your region:
Watch Dogs: Legion trailers
The latest Watch Dogs: Legion trailers were revealed during Ubisoft Forward on July 12 and gave us an overview of gameplay as well as a nice cinematic insight into the game.
Check them out below:
Ubisoft revealed a trailer at Gamescom 2019 showcasing Watch Dogs: Legion's ray-tracing capabilities. Check it out below:
Ubisoft revealed the first trailer for Watch Dogs 3 – officially titled Watch Dogs: Legion – at E3 2019. 
Watch Dogs: Legion sees you taking on an organization called Albion who have distributed riot drones all over London to keep people in line. You're a member of the resistance: DeadSec.
What's interesting about Legion is that you play as more than one character (a whole host actually), with permadeath wiping out the one you're playing if you happen to end up on the wrong end of an electric bullet. You can apparently play as anyone – with every Londoner being recruitable and fully simulated.
Check out the trailer below:
Watch: Dogs Legion preview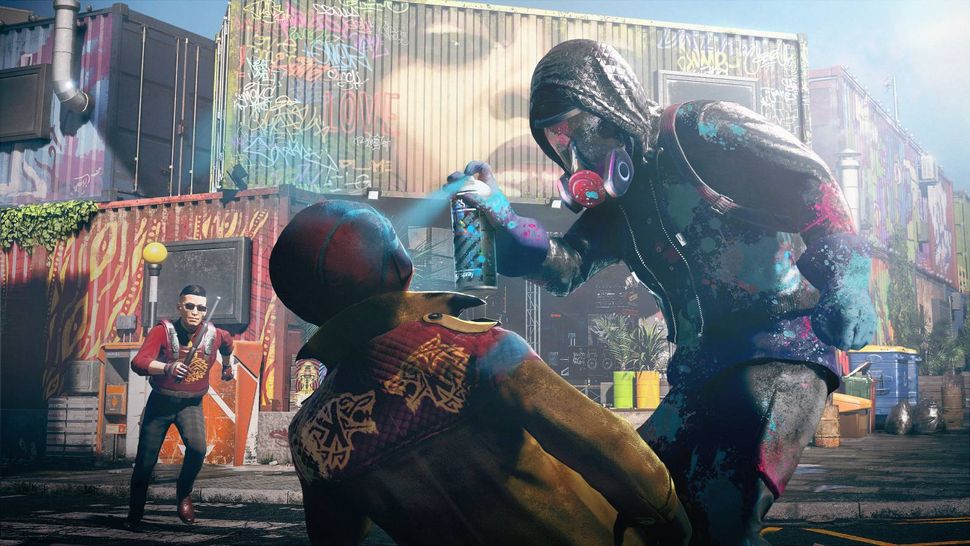 We've played three hours of Watch Dogs: Legion and, while the new Watch Dogs has an ambitious premise, we found Legion to be a repetitive game with scant surprises.
Here's what we said in our hands on review:
"Watch Dogs Legion's delay may allow the developers to fine-tune certain egregious aspects of the game, but after spending a chunk of time with Ubisoft's open-world hack-a-thon, we honestly can't see how this dog will have its day."
Check out our full hands on: Watch Dogs Legion review.
Watch Dogs: Legion news and rumors
Below we've gathered all the biggest news and rumors about Watch Dogs: Legion for your perusal:
A convincing simulation
Talking to GamesRadar, lead producer of Watch Dogs Legion, Sean Crooks, has revealed that the simulation of London in the game is even deeper than it first appears and given more insight into how occupations of characters play into the world. Players are able to play anyone in the city, including those who have specialist jobs and according to Crooks, a character's occupation means something in the game after player feedback indicated this was wanted.
According to Crooks characters "move through their calendars; once you profile a person, they will go to their work at the right location." It means if you're looking to profile a builder, for example, you should go to a building site. Or, if you're looking for a building site why not follow a builder to their job? In some ways it makes characters useful to players whether they control them or not, while adding to the realism of the simulation of London that's been created.
"We wanted to create situations where people could find fantasies around them, on characters, try them out, and deliver on them. If people can use their ingenuity about how things work in the real world, and the game simulates and delivers on that, then it's going to work really well. So we focused our development and our approach to all the systems around that."
There's an Assassin's Creed Easter Egg to look out for
You can play anyone in the world of Watch Dogs Legion, including a descendent of one of Assassin's Creed Syndicate's protagonists. 
Watch Dogs Legion will let you play as a descendant of Jacob Frye. Pretty neat connection between both franchises. pic.twitter.com/9jjTRH3m0AJuly 13, 2020
YouTube user, JorRaptor, gave some hands-on impressions of the game and one of the characters on their team was professional hitman Sarah Cassidy, whose summary of recent activity said they had been looking up descendants of Jacob Frye, Assassin's Creed Syndicate's male protagonist. 
Okay, so maybe it's not certain that they're a descendent but it's possible they at least think they are. And their career path is a "dead" giveaway. Regardless, it's a nice nod to a fellow Ubisoft franchise with a shared location. 
Watch Dogs Legion won't be subject to a next-gen price hike
Good news for those worried that Watch Dogs Legion would be subject to a significant price hike for being a cross-gen release—Ubisoft CEO Yves Guillemot has said (via IGN) during an earnings call that the publisher's games released in late 2020 (Watch Dogs Legion included) will be $60. That's not to say future next-gen releases won't be more expensive but Watch Dogs Legion, at the very least, is staying in line with existing releases in terms of price. 
Hacking is key
Hacking a huge part of Watch Dogs, as you'd probably expect. You can activate bollards, set traps to lure unsuspecting enemies, and take control of security cameras to survey the area.
Setting
Watch Dogs: legion is set in dystopian London, where mass surveillance, private militaries and organised crime are prominent fixtures. You are a member of a resistance group called Dedsec, which aims to recruit as many members as possible to overthrow the oppressive regime.
Recruits
Watch Dogs: Legion lets you can on the role of almost anyone you come across, recruiting them to your resistance – that includes cops, construction workers and even football hooligans.
Some recruits will receive perks depending on what actions you undertake. A football hooligan will take less damage when drunk, while a spy can call in a high-tech vehicle that fires rockets.
Not everyone will be available to you, though. You'll have to seek out the right recruit for the job by completing their recruitment mission that involves various fetch quests or tasks. Once that's done, they'll gladly join your crew. From there, you can switch between your team of recruits, customize them, and amass a collection of skill sets to help you complete the game's many missions.
Release date delay and next-gen confirmation
Ubisoft announced it was delaying Watch Dogs Legion, Gods & Monsters and Rainbow Six Quarantine as its more recent releases did not meet expectations.
Originally meant to release in March 2020, Legion's release date was pushed back to late 2020 to allow for "more development time to ensure that their respective innovations are perfectly implemented so as to deliver optimal experiences for players".
In addition, Ubisoft chief financial officer Frédérick Duguet confirmed all three titles will release on next-generation consoles.
"Gods & Monsters, Rainbow Six Quarantine and Watch Dogs Legion will be released between Q2 and Q3 of next fiscal year and will be optimized for the next generation of consoles," Duguet said in a conference call following the announcement (via VGC).