Exclusives, originals, classics, when it comes to the best of the best TV shows, Netflix is still (by a long shot) our number one streaming platform. Although competition is certainly mounting from the likes of Now TV and Amazon Prime, Netflix is still our firm favourite because it's constantly being updated with such a great mix of series both old and new. 
[Update: The past few weeks have seen some sensational news shows being added to Netflix, including brand new episodes of Better Call Saul and Matt Groening's new animated TV show Disenchantment. If you're all caught up, this week has some corkers too, including new supernatural teen series The Innocents, Buzzfeed's Follow This and a new season of the animated adult comedy series Archer.]
When it comes to new shows, this summer has been a scorcher, with great new shows, seasons and fresh episodes from the likes of Arrested Development, Glow, Queer Eye, Luke Cage, Better Call Saul, Disenchantment and Orange is the New Black. And it shows no signs of slowing down.
As you can probably tell from that quick rundown, one of the best things about Netflix is it really does cater for every taste, from gritty true crime and thrillers through to fantasy, space adventures and plenty of cartoons and fun for kids. We can't guarantee it, but we're pretty sure there's something for everyone. 
Let's not forget that a lot of the best shows on Netflix right now are originals that have been created by the Netflix team and the studios behind them. In short, Netflix is really on a roll.
Although there's one big problem: with so much to love what do you watch next? Well, because we care about your viewing experience, every week we add to this authoritative, in-depth catalogue of the best Netflix TV series around right now. 
Our selection of shows features more than 60 of the best that Netflix currently has to offer, as well as a glimpse into what's coming next below. In this carefully-curated TV treasure trove, you'll discover everything you need to make sure you avoid the disappointing shows and get watching the best TV that's available on the streaming platform in seconds.
If you're often filled with Netflix woes, bookmark this page because we're constantly updating this list, so be sure to check back every week to see what's just landed.
Coming Soon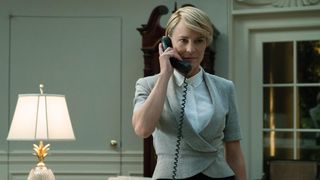 Netflix shows no sign of slowing down when it comes to creating its own original content. There are a number of new shows coming out later this year that have been either created by Netflix or are exclusive to the streaming platform. 
First up, there's the highly-anticipated season 6 of House of Cards, which will have Robin Wright's character, Claire Underwood, take centre stage after the Kevin Spacey assault and harassment allegations saw him being axed from the series. We're not sure how House of Cards will hold up without Frank Underwood, but if anyone can take the reins, it's Wright. 
We're also excited about the upcoming Chilling Adventures of Sabrina, which is based on the comic book by the same name and follows the same main character from the Sabrina The Teenage Witch show we all loved when we were kids, Sabrina Spellman.
Finally there's also a new Derren Brown special on the cards. Called Sacrifice, the Netflix original will follow the story of Derren's mind tricks to change a man's beliefs and prejudices. There haven't been many details revealed just yet, but the big finale looks like it'll be all about a, you guessed it, sacrifice in which the central protagonist has to decide whether to save himself or put his life on the line for someone he wouldn't normally identify with. 
House of Cards, Season 6 – Coming Soon
Chilling Adventures of Sabrina – October 26 2018
Derren Brown's Sacrifice – Late 2018